Without a doubt, Changi Airport is one of the best in the world because of its facilities. In fact, some people consider the airport as their "home" far away from home because of its myriad services and abilities. The good news is that the Kinetic Rain sculpture in the airport has been restored after it was destroyed last November. The sculpture is the largest of its kind in the world.
Apart from the Rain Sculpture, there are other valuable facilities that you can see in Changi Airport particularly in Terminal 1. Here's a list: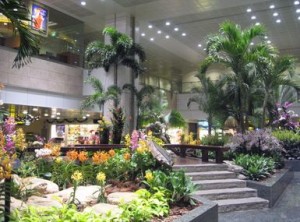 Rooftop Lantern – When you are in the departure hall, you will feel an extra warmth and glow when you see the rooftop lantern. There is a broad covering that can give you shade against the rain and sun.
Lantern Walls – When you are checking in, you will be awed with the lantern walls. There's a  stainless steel that reflects trees and sun which welcomes everyone.
Outdoor Gardens – There are two outdoor gardens – the Lily Pads (located at West Outdoor Decks) and the Sculptural Trees (located at East Outdoor Deck). These gardens were designed to induce calmness to travellers.
Movie House – There is a movie house that screens latest movies 24/7 in the airport. Do not worry because you will not pay for anything and you can stay there for as long as you like.
Pool – If you are into swimming, the airport also provides a swimming pool. You do not need to pay for getting into the pool as long as you order something in their bar.
Shopping – The airport houses many shopping stalls. You can shop without going outside or to the city proper. You will find many designer and local brands here, as well as see a lot of souvenir items.
The list goes on. While waiting for your next flight, why not spend your time exploring Changi Airport? You will not regret it because there are many things to do.