Steaks are famous in Singapore. If at this moment you are craving for a steak, you should go to a restaurant that offers the best beef or steak. You don't need to go that far or search further because you can consider this list: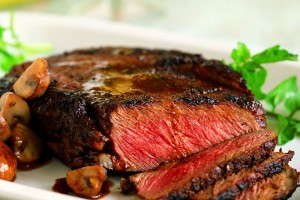 Morton's
Morton's is located in Mandarin Oriental. The restaurant serves the best steaks not only in Singapore but the whole world since it is present among 75 countries. Their claim as the best is supported by their motto: The Best Steak Anywhere. You must try their New York strip, Porterhouse, Fillet mignon and many more. The price ranges from S$19 to S$320. They are open during Monday-Saturday (5:30pm to 11pm) and Sunday (5pm to 10pm).
Gordon Grill
Gordon Grill is located in Goodwood Park Hotel. The restaurant offers the best menu and steak experience. You should try their Australian Wagyu steak, fillet mignon, crab salad, dover sole, tiger prawns and many more. The price ranges from S$40 to S$102. They are open from 12noon to 2:30pm and 7pm to 10:30pm every day.
Bedrock
Bedrock is located in Somerset Road. The steaks are very good with great ambiance. You must try their Tuna, US, Rib eye fillet, Tomahawk and many more. The price ranges from S$28 to S$340. The restaurant is open from 12pm to 2:30pm and 6:30pm to 12am every Monday to Saturday.
Lawry's
Lawry's is located within Mandarin Hotel Gallery. Lawry's is an American restaurant that came to Singapore to share their steak expertise. The restaurant received multiple awards from different organizations. You must try their California cut, USDA prime ribs, English cut and other dishes. The price ranges from S$17 to S$175. They are open from Sunday to Thursday (11:30am to 10pm) and Friday-Saturday & Public Holidays (11:30am to 10:30pm).
You should know that there are three types of doneness- rare, medium or well done steaks. Aside from that, you should be familiar with steak cuts. Steak cuts include tenderloin, rib eye and sirloin. If you want to enjoy your steak, you should determine the beef. It is said that the best beef is Japanese Wagyu (like Matsusaka and Kobe) followed by Australian Wagyu and then the Angus beef.